Trapper John, M.D. was a spinoff of the TV Series M*A*S*H that ran on CBS from September 23, 1979 to September 4, 1986. It featured 'Trapper John' McIntyre 28 years after he had left the 4077th MASH. The series had Trapper working as chief of surgery at the San Francisco Memorial Hospital. In this incarnation, Trapper was played by Pernell Roberts.
One of the other characters in the show was Doctor George Alonzo "Gonzo" Gates, who was played by Gregory Harrison. Gonzo was a man who had just returned to the states after serving in a Vietnam-era MASH unit, and who was much like what Trapper had been earlier.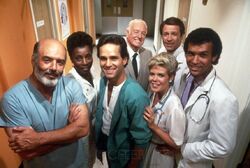 In this series, Trapper had mellowed somewhat, and had become more a part of establishment than what he had been in his younger days. Eventually his son J.T., played by Timothy Busfield, joins him at the hospital. While the show had a comedy element, it also dealt with serious subjects, such as AIDS - which had appeared in the developed world during the series run.
Legally, the show is considered a spinoff of the original movie MASH, rather than the M*A*S*H television show. This is due to a court case in which the producers of the series had sought royalty payments on the grounds that Trapper John, M.D. was a spinoff of their television series. However, the court found that the series was a spinoff of the original movie. As a result, the series producers did not receive any royalties from Trapper John, M.D.
External links
Edit