Michael Sylvester Gardenzio Stallone (born July 6, 1946) is an American actor. He gained major attention for starring in the Rocky and Rambo franchises, reprising his famous roles in many sequels over the next several decades.
Stallone began his career with mostly roles as an extra, and he was an extra in MASH. He can be seen quite briefly after "Hawkeye" comes to the camp. He was a soldier, wearing a beret. Other films Stallone was in as an extra include Klute, Lovers and Other Strangers, and Downhill Racer.
Stallone also admitted to actor Elliott Gould that he was in the movie - something Stallone rarely does!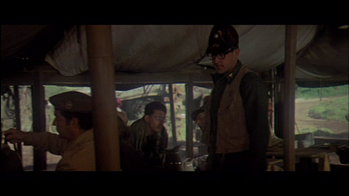 Ad blocker interference detected!
Wikia is a free-to-use site that makes money from advertising. We have a modified experience for viewers using ad blockers

Wikia is not accessible if you've made further modifications. Remove the custom ad blocker rule(s) and the page will load as expected.