Sergeant Cutrifiotis

Paul Cavonis as Sergeant Cutrifiotis in "They Call the Wind Korea" in Season 7.
M*A*S*H character
Vital information
Rank:
Sergeant (E-5), Greek Army
Job/Role in Unit:
Injured in a truck accident, later a patient at the 4077th MASH
Home:
????
Hair Color:
Black
Eye Color:
Dark Brown
Height:
unable to estimate
Weight:
unable to estimate
Family/Personal Information
Born:
????
Birthplace:
????
Nationality/Race:
Greek
Spouse(s):
????
Relatives/Children:
Not Mentioned
Appearances
First appeared in:
"They Call the Wind Korea" (Season 7)
Last appeared in:
N/A, one-time appearance
Appeared on/or in:
M*A*S*H
Played by:
Paul Cavonis
Sergeant Cutrifiotis
is a Greek Army sergeant who makes a one-time appearance in the Season 7 episode of
M*A*S*H
titled
"They Call the Wind Korea"
. The part of Cutrifiotis is played by
Paul Cavonis
, an American actor of Greek ancestry noted for playing Greek characters on TV and film.
About Cutrifiotis
Edit
Klinger and Winchester come across an overturned truck while on their way to Seoul. Klinger discovers a few Greek soldiers inside the truck, all wounded. Cutrifiotis is lying outside, with a dislocated right shoulder. After moving Cutrifiotis into the shelter of the truck, Winchester then resets his shoulder. At first this causes Cutrifiotis much pain but he begins to feel much better. Later, when Winchester has to perform emergency field surgery on another Greek soldier, Cutrifiotis is able to help in holding the patient still and reassuring him. Throughout the episode, Cutrifiotis does have a few lines, but as they are all spoken in Greek, it is not certain what they mean. The last line sounds like a word of thanks or praise for Winchester's successful field surgery on his Greek colleague.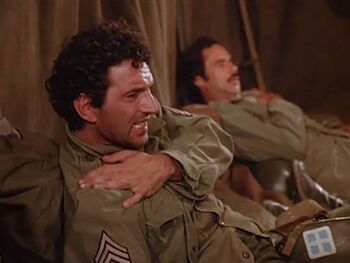 Ad blocker interference detected!
Wikia is a free-to-use site that makes money from advertising. We have a modified experience for viewers using ad blockers

Wikia is not accessible if you've made further modifications. Remove the custom ad blocker rule(s) and the page will load as expected.