Sergeant Attias Jerris Moody

Turkish Sergeant Attias shows up at the MASH to donate blood in "Post Op" (Season 5).
M*A*S*H character
Vital information
Rank:
Sergeant, Turkish Army
Job/Role in Unit:
Leads a group of Turkish soldiers to donate blood at the 4077th MASH
Home:
not mentioned
Hair Color:
Black
Eye Color:
Blue
Height:
6' 2
Weight:
180 lbs.
Family/Personal Information
Born:
not mentioned
Birthplace:
not mentioned
Spouse(s):
not mentioned
Relatives/Children:
not mentioned
Appearances
First appeared in:
"Post Op" (Season 5)
Last appeared in:
N/A, guest appearance
Appeared on/or in:
M*A*S*H (TV series)
Played by:
Zitto Kazann, in guest appearance
Sergeant Attias
was a Turkish amry sergeant who made a single appearance in the Season 5 episode of the CBS-TV series
M*A*S*H
titled
"Post Op"
. The part of Attias was played by Argentinian born actor
Zitto Kazann
.
About Attias
Edit
Towards the end of the episode "Post Op", Attias arrives with a truck of Turkish soldiers who all want to volunteer as blood donors as a token of appreciation to the MASH for saving the life of their captain. "It's a small thing to do for such brave people," he tells Hawkeye. Just as his troops are marching into the mess tent to the applause of the MASH personnel, Attias is pushed aside as Frank, reluctant to donate blood, dashes out pursued by Klinger. "What's wrong with him? he asks Hawkeye. "He's one of our brave people," Attias is told.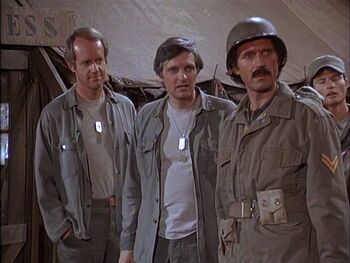 Ad blocker interference detected!
Wikia is a free-to-use site that makes money from advertising. We have a modified experience for viewers using ad blockers

Wikia is not accessible if you've made further modifications. Remove the custom ad blocker rule(s) and the page will load as expected.