Paul Conway

Private Conway, as played by Ed Begley, Jr.
M*A*S*H character
Vital information
Rank:
Private (E-2), U.S. Army
Job/Role in Unit:
Clumsy wounded soldier/gourmet chef temporarily assigned as a mess cook by the surgeons, Hawkeye and B.J. for the 4077th M*A*S*H unit
Home:
????
Hair Color:
Blonde
Eye Color:
Blue
Height:
6'3"
Weight:
185 lbs.
Family/Personal Information
Born:
Not Mentioned
Birthplace:
????
Nationality/Race:
American/Caucasian
Spouse(s):
????
Relatives/Children:
Not Mentioned
Appearances
First appeared in:
"Too Many Cooks" (Season 8)
Last appeared in:
N/A, one time appearance
Appeared on/or in:
M*A*S*H
Played by:
Ed Begley, Jr. in guest appearance
Private Paul Conway
was a character who appeared in the Season 8 opening episode of
M*A*S*H
titled
"Too Many Cooks"
. The part of Private Conway was played by actor
Ed Begley, Jr
.
About Pvt. Conway
Edit
Conway, who's a quite clumsy and inept soldier, shows up as one of the "wounded" at the 4077th. after "tripping over a foxhole!" The surgeons, Hawkeye and B.J. soon discover that Conway is quite a good cook; it turns out that he, in civilian life is a gourmet chef whose request to be made an army cook was denied. While recovering from his injury, he is temporarily assigned to the mess section and cooks gourmet meals from unexpected sources (such as "Spam parmagian", "chipped beef Wellington", and "powdered eggs benedict"). The 4077th staff love his cooking and try to get him made an army cook permanently. Colonel Potter is not interested, distracted by a letter from his lonely and frustrated wife Mildred, begging him to come home.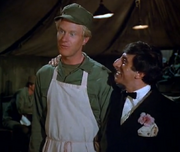 General Budd Haggerty (played by []John Randolph]]), when talking to longtime buddy Sherman (Harry Morgan) senses things aren't right with Colonel Potter, who requests a transfer from the 4077th when talking to him over the phone, and visits the camp to find out what's wrong with him. Meanwhile, the MASH gang try to scheme how to find out how to make Conway a cook, namely the new cook for their unit, but -- the plan backfires -- when General Haggerty tastes Pvt. Conway's cooking by happenstance. Luckily, for Conway, he's reassigned as a Army Cook but instead of staying at MASH, or working as a private cook for the General, who's smitten with his culinary talent-he's sent back to the front lines as a cook for his old unit -- at his own request!
Ad blocker interference detected!
Wikia is a free-to-use site that makes money from advertising. We have a modified experience for viewers using ad blockers

Wikia is not accessible if you've made further modifications. Remove the custom ad blocker rule(s) and the page will load as expected.