Private Ferguson

Private Ferguson on patrol with his squad in "Point of View" (Season 7). He is talking to his buddy Private Rich, who is the camera's point of view.
M*A*S*H character
Vital information
Rank:
E-1 (Private), U.S. Army
Job/Role in Unit:
patient at the 4077th MASH
Hair Color:
Black
Eye Color:
Dark Brown
Height:
????
Weight:
????
Family/Personal Information
Born:
????
Birthplace:
????
Nationality/Race:
American/Black
Spouse(s):
????
Relatives/Children:
????
Appearances
First appeared in:
"Point of View" (Season 7)
Last appeared in:
N/A, one-time appearance
Appeared on/or in:
M*A*S*H
Played by:
Hank Ross
Private Ferguson was a US Army G.I. who makes a one-time appearance in the Season 7 episode of the CBS-TV series M*A*S*H titled "Point of View". The part of Private Ferguson is played by actor Hank Ross.
About Private Ferguson
Edit
Private Ferguson is out on patrol with his buddy Private Rich (who takes the camera's point of view) and the rest of his squad. Their sergeant keeps yells at them to spread out, but they don't move quickly enough, so when the squad comes under mortar attack, both Ferguson and Rich are injured, Ferguson in the leg and Rich in the throat. They meet again in pre-op and then in post-op where Ferguson occupies the bed opposite. At the end of the episode, the two are are shipped out together to be sent to an evacuation hospital and then home. Rich can't talk but Ferguson says it for both of them: "We made it!"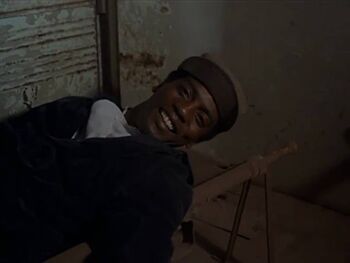 Ad blocker interference detected!
Wikia is a free-to-use site that makes money from advertising. We have a modified experience for viewers using ad blockers

Wikia is not accessible if you've made further modifications. Remove the custom ad blocker rule(s) and the page will load as expected.