Oksun Kim was an actress who made two credited appearances on M*A*S*H as Korean characters. During the 1970s and 1980s, there were few Korean in the screen industry and the Korean characters on M*A*S*H were frequently played by Japanese or Chinese actors. Soon-Tek Oh, an ethnic Korean, is one of the few exceptions. However "Oksun Kim" is a Korean name, "Kim" being a common surname in Korea. This would make Oksun's Korean characters part of the handful actually played by an ethnic Korean. Unfortunately, Oksun had a short screen career and her IMDB page lists only her M*A*S*H credits so very little is known about her.
Oksun Kim and M*A*S*H
Edit
Oksun Kim made two credited appearances on M*A*S*H, spanning almost the entire duration of the series. Her first appearance was towards the end of Season 1 in "Showtime". Here she played an unnamed Korean woman who worked in the camp laundry. Radar borrowed her baby for Henry Blake to hold since he could not be present for the birth of his own son.
Oksun's next credited appearance would come almost at the end of the series, in the last episode to be produced, "As Time Goes By". Here she played a Korean woman being shipped south to a refugee camp from the 4077th. She and her husband told Mulcahy that they had been separated from their daughter who had been working in the fields and ask him to help find her. Later, Mulcahy and Klinger bring Soon-Lee (Rosalind Chao) to the refugee camp, thinking she might be the missing daughter but they turn out to be wrong.
It is possible that she might have appeared as an uncredited extra as a Korean in other episodes but these have not been identified.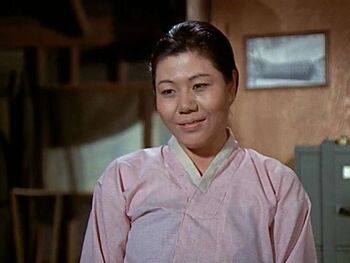 Ad blocker interference detected!
Wikia is a free-to-use site that makes money from advertising. We have a modified experience for viewers using ad blockers

Wikia is not accessible if you've made further modifications. Remove the custom ad blocker rule(s) and the page will load as expected.