Muldoon

John Orchard as Ugly John
M*A*S*H character
Vital information
Rank:
Corporal (E-4), Australian Army
Job/Role in Unit:
MP who temporarily shuts down Rosie's Bar after Charles, unaware of an arrangement between he and Rosie, refuses to serve him his usual "coffee", which is really booze
Home:
Australia
Hair Color:
Black
Eye Color:
Green
Height:
6'2"
Weight:
185 lbs.
Family/Personal Information
Born:
????
Birthplace:
????
Spouse(s):
Name not mentioned
Appearances
First appeared in:
"Captains Outrageous"
Last appeared in:
N/A, one time appearance
Appeared on/or in:
M*A*S*H TV series
Played by:
John Orchard
Corporal Muldoon was a character who appeared in the Season 8 episode of the CBS-TV series M*A*S*H titled Captains Outrageous. The part of Muldoon was played by actor John Orchard, who also played the recurring role of Ugly John Black in Season 1 of the series.
About Muldoon
Edit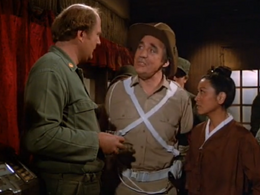 Muldoon, an Australian non-commissioned officer and regular at Rosie's Bar, allowed the establishment to operate provided he received free liquor when he ordered "coffee". When Charles, who was tending bar in that episode, and unaware of the arrangement between Muldoon and Rosie, had the audacity to charge Muldoon for his drink, soon after which Rosie's was temporarily closed down. When Rosie, who was laid up sick in O.R. with cracked ribs stemming from getting caught up in a big bar fight was sparked between an argument between a Turkish and Greek soldier, was able to return to the bar, Muldoon declared it off limits; when she wondered why, he asserted "You shouldn't have left "Chauncey Uppercrust" (what he sarcastically dubbed Charles) here behind the bar!"
Ad blocker interference detected!
Wikia is a free-to-use site that makes money from advertising. We have a modified experience for viewers using ad blockers

Wikia is not accessible if you've made further modifications. Remove the custom ad blocker rule(s) and the page will load as expected.