Major Taylor

The eccentric Major Taylor greets Hawkeye and Trapper, offering wine under artillery bombardment.
M*A*S*H character
Vital information
Rank:
Major (O-4), British Army
Job/Role in Unit:
British Army officer who has to authorise Hawkeye and Trapper to harvest an organ from one of his deceased soldiers for a transplant
Hair Color:
Grey
Eye Color:
Blue
Height:
Unable to estimate
Weight:
Unable to estimate
Family/Personal Information
Born:
Not mentioned
Birthplace:
Not mentioned
Nationality/Race:
British/Caucasian
Spouse(s):
Not mentioned
Relatives/Children:
????
Appearances
First appeared in:
"The Consultant" (Season 3)
Last appeared in:
N/A, one-time appearance
Appeared on/or in:
M*A*S*H
Played by:
Joseph Maher
Major Taylor is a British Army officer who makes a one-time appearance in the Season 3 episode of M*A*S*H titled "The Consultant". The part of Major Taylor was played by veteran Irish character actor Joseph Maher.
About Major Taylor
Edit
When Dr. Anthony Borelli suggests an arterial graft on one of the 4077th MASH patients in order to save his leg, the MASH personnel urgently go in search of a recently deceased person to harvest a suitable artery from. Radar finally finds one at a British Army unit not far from the 4077th and Hawkeye and Trapper set off for the front on a jeep.
Arriving at the British unit, Hawkeye and Trapper find the place under the command of the eccentric Major Taylor. Taylor is calming enjoying a meal of wine and cheese in a comfortably furnished tent, oblivious to the artillery bombardment which is falling all around him. He even offers the surgeons some wine. Taylor comments that the surgeons seem to be going through a lot of fuss for a leg. He says that his father had lost both legs and said he lived longer because he never had to tie his shoe laces. Hawkeye and Trapper are in a hurry so Taylor obiges them by signing the authorization for them to harvest the artery from one of his dead soldiers. As Hawkeye and Trapper are leaving, Taylor quips: "A British artery in an American leg eh? Probably develops an irresistible urge to drive on the left side of the road."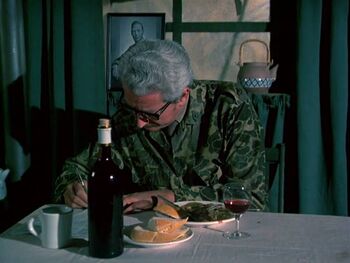 Ad blocker interference detected!
Wikia is a free-to-use site that makes money from advertising. We have a modified experience for viewers using ad blockers

Wikia is not accessible if you've made further modifications. Remove the custom ad blocker rule(s) and the page will load as expected.