Ad blocker interference detected!
Wikia is a free-to-use site that makes money from advertising. We have a modified experience for viewers using ad blockers

Wikia is not accessible if you've made further modifications. Remove the custom ad blocker rule(s) and the page will load as expected.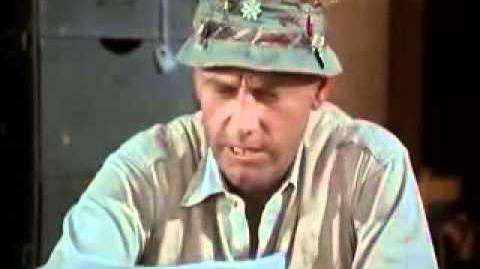 M*A*S*H* Season 1
"M*A*S*H* - Season One"

DVD cover for M*A*S*H Season 1.
Season:
Season 1
Original
network:
CBS-TV
Country/Language
United States
Original Run:
First episode:
September 17, 1972
Final episode:
March 25, 1973
Number of episodes
24
Created by:
Larry Gelbart
Executive producer(s):
Larry Gelbart & Gene Reynolds
Season guides
Previous
N/A
Next
Season 2
The first episode of Season 1 of M*A*S*H, M*A*S*H the Pilot aired on CBS-TV on September 17, 1972; the final episode, Showtime aired on March 25, 1973.
Major episodic events
Edit
Research notes/Fun facts
Edit
Season 1 is also the season where a large number of recurring supporting characters were tried out. Some were characters from the 1970 MASH film: Spearchucker Jones, Ugly John, Brigadier General Hammond, Father Mulcahy and Lieutenant Dish. Leslie Scorch was a hybrid of two characters, Captain Leslie and Lieutenant Wilma Scorch from the film as well.
Among the new supporting characters introduced were Margie Cutler, Barbara Bannerman, Nancy Griffin and Ginger Bayliss.
Almost all the supporting characters who were tried out came and then went with Season 1. Dish only appeared for two episodes. Leslie Scorch would reappear in Season 2 and then only for the first episode. Probably the producers did not want supporting characters to become too recognizable and distract from the main cast. Only around Season 5 would recognizable recurring supporting characters like Peggy Bigelow become a fixture.
Two successful supporting characters were Klinger (Jamie Farr and Father Mulcahy (William Christopher). These two became regular recurring characters and eventually main cast members in later seasons.
"Sticky Wicket" shows a hint of the relationship between Hawkeye and Margaret that would be further developed in later seasons.
Captain Jonathan S. Tuttle is introduced as Hawkeye's imaginary friend in the episode Tuttle, where Hawkeye and Trapper send supplies to Sister Theresa's orphanage and credit him for it. As Tuttle is listed in the end credits as having played "himself", he has an entry in the Internet Movie Database.
Season 1: (1972-1973) List of Episodes
Edit
This table is sortable and can present the episodes either in the order they were broadcast (click on the sort buttons in column "Ep.#") or in the order they were produced (click on the sort buttons in the column "Production No.").
The episodes were not all broadcast in the same order as they were produced. The broadcast order is also the order of episodes in the DVD set. However, syndicated reruns and paid streaming services such as Netflix sometimes follow the production order (e.g. J-301, J-302, J-303....).
In Season 1 there is a great disparity between the broadcast and production order. One can only speculate why this was the case. There is a discontinuity when watching the shows in broadcast order when it comes to the person of Henry Blake's boss. In the first two episodes, it is General Hammond (G. Wood) but then in the 3rd and 4th episodes it becomes General Barker (Sorrell Brooke). In episode 6 it is now General Clayton (Herb Voland) but flips back to Hammond again in episode 9. This discontinuity disappears when viewed in production order. The three Hammond episodes are together at the front, then the two Barkers and finally Clayton.
| Ep.# | Date aired | Episode title | Production No. | Summary |
| --- | --- | --- | --- | --- |
| 1 | September 17, 1972 | M*A*S*H the Pilot | J-301 | The Swamp's resident houseboy, Ho-Jon, is accepted into Hawkeye's alma mater. To raise money for his tuition, a raffle is held with the prize to be a weekend in Tokyo with (engaged) Nurse Dish. Hawkeye rigs the raffle so Father Mulcahy is declared the winner. |
| 2 | September 24, 1972 | To Market, to Market | J-303 | The black market has made off with the 4077th's supply of hydrocortisone, so Hawkeye and Trapper make a deal with the marketeers to trade Henry's vintage desk for the supplies. |
| 3 | October 1, 1972 | Requiem for a Lightweight | J-308 | Nurse Cutler arrives at the 4077th but is promptly transferred out again after Major Margaret Houlihan finds she is a distraction for Hawkeye and Trapper. Henry agrees to attempt getting Cutler back if one of them fights a boxing match against someone from Cutler's new unit, to which the pair agree. Hawkeye coats Trapper's boxing gloves in ether in an attempt to secure victory. |
| 4 | October 8, 1972 | Chief Surgeon Who? | J-307 | Henry appoints Hawkeye chief surgeon over Frank, to Frank's intense annoyance. He and Margaret call over General Barker to inspect the 4077th and bring about order. However, after meeting Klinger (his first appearance in the series), he declares the camp nuts and Hawkeye a brilliant surgeon worthy of his title of "Chief Surgeon." |
| 5 | October 15, 1972 | The Moose | J-305 | Hawkeye wins a young Korean girl, Young-Hi, off a visiting Sergeant in a card game with the intention of freeing her, but then Young-Hi thinks she belongs to Hawkeye. He and the other doctors attempt to show her that she is free. |
| 6 | October 22, 1972 | Yankee Doodle Doctor | J-310 | Lieutenant Bricker arrives at the 4077th to film a documentary about M*A*S*H units, on the recommendation of General Clayton. However, when Trapper and Hawkeye find out it is little more than propaganda, they wreck it and make their own version. |
| 7 | November 5, 1972 | Bananas, Crackers and Nuts | J-311 | When Hawkeye is desperate for R/R but Henry won't grant it to him, he begins to fake insanity. Captain Sherman is brought over to analyze if Hawkeye's madness is real and decides to put Hawkeye under observation. To avoid this, Trapper, Radar and Hawkeye cook up a scheme to make it appear as if Sherman sexually assaulted Hot Lips. |
| 8 | November 12, 1972 | Cowboy | J-309 | After being refused a stateside trip to make sure his wife is not committing adultery, a displeased chopper pilot, known as the Cowboy, tries to kill Henry. |
| 9 | November 19, 1972 | Henry Please Come Home | J-302 | Henry is transferred to Tokyo for administrative duties - and the 4077th is run Frank's way. Hawkeye and Trapper try to convince Henry to return to the 4077th. |
| 10 | November 26, 1972 | I Hate a Mystery | J-306 | A crime wave hits the 4077th and the stolen items are found in Hawkeye's footlocker, making him the chief suspect. How can he prove to the disgruntled camp he is innocent? |
| 11 | December 10, 1972 | Germ Warfare | J-304 | Hawkeye and Trapper play Dracula when they secretly steal some of Frank's blood in the night to aid a North Korean with a matching rare blood type. However, they fear Frank is a carrier of hepatitis when the patient develops it and plot to keep him away from everyone, including Hot Lips. |
| 12 | December 17, 1972 | Dear Dad | J-313 | Hawkeye writes his father about the Christmastide happenings at the 4077th, including Henry's mandatory sex talk and Hawkeye doing field surgery dressed as Santa Claus. |
| 13 | December 24, 1972 | Edwina | J-312 | Edwina, a nurse, is unlucky in love at the 4077th and the other nurses agree to hold off their romances until one of the men agrees to date her. Hawkeye draws the short straw and spends a night with Edwina. |
| 14 | January 7, 1973 | Love Story | J-314 | Radar receives a "Dear John" from his fiancée and becomes depressed until a new nurse arrives, when he instantly falls in love with her. Majors Houlihan and Burns plot to break up the pair as their relationship is against regulations, forgetting that theirs isn't the only one... |
| 15 | January 14, 1973 | Tuttle | J-315 | Hawkeye and Trapper invent a fictional officer, Captain Jonathon S. Tuttle, however soon everyone believes Tuttle is real (without ever having seen him). When General Clayton hears of his exploits and arrives to personally congratulate him, Hawkeye claims Tuttle accidentally leapt to his death off a chopper without a parachute. |
| 16 | January 21, 1973 | The Ringbanger | J-316 | A colonel, Buzz Brighton (played by guest star Leslie Nielsen) arrives at the 4077th with a high casualty record. Trapper and Hawkeye attempt to have him shipped home by convincing him he is insane. |
| 17 | January 28, 1973 | Sometimes You Hear The Bullet | J-318 | Frank throws out his back and applies for the Purple Heart, while Hawkeye finds out one of his patients (played by Ron Howard) is an underage soldier. Sergeant Tommy Gillis, an old friend of Hawkeye's, is wounded and rushed to the 4077th, but Hawkeye fails to save him, causing Hawkeye immense grief. He then decides to turn the underage soldier in for his own good. |
| 18 | February 4, 1973 | Dear Dad...Again | J-317 | Hawkeye again writes his father about the happenings at the 4077th, including Frank getting drunk, Margaret attempting to sing "My Blue Heaven" and the discovery of a fraud passing himself off as a doctor. |
| 19 | February 18, 1973 | The Longjohn Flap | J-319 | Hawkeye receives a pair of longjohns in the mail, much to everyone's envy. He lends them to an ill Trapper out of sympathy, who promptly loses them to Radar in a poker game. The longjohns pass through the hands of just about everyone in the camp before finally ending up in Hawkeye's possession again. |
| 20 | February 25, 1973 | The Army-Navy Game | J-322 | An unexploded bomb lands in the compound during heavy shelling, but everyone at HQ is too busy listening to the Army-Navy football game to aid them. When Trapper and Hawkeye attempt to diffuse the bomb, it explodes - with CIA propaganda leaflets. |
| 21 | March 4, 1973 | Sticky Wicket | J-321 | While Hawkeye has always teased Frank about his surgical incompetence, the tables are turned when one of Hawkeye's patients starts failing. He obsesses over saving this patient to protect his ego, but eventually is forced to admit he cannot win them all. |
| 22 | March 11, 1973 | Major Fred C. Dobbs | J-320 | After another Hawkeye and Trapper scheme to get rid of Frank, he finally demands a transfer with Hot Lips following suit. However, the scheming pair realize they will be doing double duties until a replacement is found. Not wishing to do extra work, they convince Frank to stay by claiming they have found a fortune of gold at the camp. |
| 23 | March 18, 1973 | Ceasefire | J-323 | Rumors of a ceasefire reach the 4077th. Everyone is jubilant and says their goodbyes, except for Trapper who is skeptical about it. Of course, the rumor proves to be unfounded, but not after Hawkeye waives over a thousand dollars' worth of poker debts and tells several nurses he is married. |
| 24 | March 25, 1973 | Showtime | J-324 | Henry's wife, Lorraine, gives birth to a son stateside while a stand-up comic arrives to perform at the 4077th. The camp dentist receives his discharge papers and takes great care not to injure himself before his departure. |