Lt. Colonel Burton D. Hedley

Lt. Colonel Burton D. Hedley in the Season 8 M*A*S*H episode "Goodby, Cruel World".
M*A*S*H character
Vital information
Rank:
Lieutenant Colonel (O-5), U.S. Army
Job/Role in Unit:
Staff Officer in I-Corps HQ
Hair Color:
Grey
Eye Color:
Blue
Family/Personal Information
Spouse(s):
????
Relatives/Children:
None Mentioned
Appearances
First appeared in:
"Goodbye, Cruel World" (Season 8)
Last appeared in:
N/A, One time appearance
Appeared on/or in:
M*A*S*H in guest appearance
Played by:
Philip Bruns
Lt. Colonel Burton D. Hedley was a character who appeared in the Season 8 M*A*S*H episode "Goodbye, Cruel World" . The part of Lt. Colonel Hedley was played by character actor Philip Bruns.
About Colonel Hedley
Edit
Klinger is upset about the rest of the MASH personnel laughing at his office decorations and fakes a set of discharge papers by forging Potter's signature and has them sent off to I Corps Headquarters. However, soon after this, Potter surprises Klinger by apologizing to him for hurting his feelings and offering him a three-day pass. Klinger feels guilty and and must now rush to I-Corps to retrieve the package of fake papers before they are processed.
At I Corps, the papers are with Lt. Colonel Hedley so Klinger barges into his office, pretending to be Radar. Hedley tells Klinger that he has received Klinger's discharge papers and is about to process them. He says it is a very tragic case and he intends to send Klinger home as soon as possible. But Klinger pleads with him not to do that because the whole thing is a scam--the documents are forgeries. He asks Hedley if he is familiar with Klinger's "checkered history. He used to wear dresses." Recognition dawns on Hedley: "Oh that nut. He once sent me bonbons!"
Now convinced about the scam, Hedley decides to take disciplinary action against the forger but Klinger asks Hedley to let Potter do it instead because Potter is "so P.U.ed at Klinger that he is ready to convene a firing squad." Hedley concurs, remarking that since Potter has had to put up with Klinger for so long, it seemed only fair to let Potter have Klinger's hide. With this, Hedley returns the all important package of papers to Klinger, whom he thinks is Radar.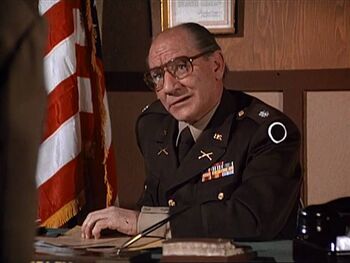 Ad blocker interference detected!
Wikia is a free-to-use site that makes money from advertising. We have a modified experience for viewers using ad blockers

Wikia is not accessible if you've made further modifications. Remove the custom ad blocker rule(s) and the page will load as expected.