Lois Foraker

Lois Foraker as Nurse Able in the Season 3 M*A*S*H episode "Deluge"
Personal Information
Birthname
Lois E. Foraker
Born:
1945
Birthplace
Everett, Snohomish County, Washington, U.S.
Occupation/
Career:
Actress
Years active:
1971-present
Character information
Appeared on/in:
M*A*S*H/AfterMASH
Episodes appeared in:
4 on M*A*S*H, 3 on AfterMASH
Character played:
Nurse Able/Nurse Denver/Nurse Bell
(M*A*S*H)
Nurse Coleman
(AfterMASH)

Lois Foraker (born 1945) made 4 appearances on M*A*S*H as various nurses, twice as Nurse Able; she also appeared in the part of Nurse Coleman on the spinoff series AfterMASH. Lois was in the original Broadway cast of Godspell. Lois has made numerous appearances on TV shows and films during the course of her Hollywood career, which began in an uncredited appearance in 1971's Dirty Harry film, which starred Clint Eastwood in the title role.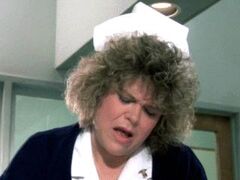 Filmography
Edit
Television appearances
Edit
The West Wing (2001)
The X Files (as Sylvia Jassy) (1999)
3rd Rock from the Sun (1996)
The Larry Sanders Show (1995)
Rachel Gunn, R.N. (1992)
Night Court (1990)
Northern Exposure (Pilot, 1990)
St. Elsewhere (as Masha) (1986-7)
Murder, She Wrote (1984 and 1988)
AfterMASH (1983)
Newhart (1982)
M*A*S*H (1976-8)
External links
Edit