Lieutenant Hardy

Lt. Hardy with Radar in "The Army-Navy Game" (season 1 Episode #20).
M*A*S*H character
Vital information
Rank:
Lieutenant (0-2)
Job/Role in Unit:
Nurse at the 4077th M*A*S*H
Home:
Not Mentioned
Hair Color:
Blonde
Eye Color:
Blue
Height:
????
Weight:
????
Family/Personal Information
Born:
????
Birthplace:
????
Nationality/Race:
American/Caucasian
Spouse(s):
????
Relatives/Children:
Not mentioned
Appearances
First appeared in:
"The Army-Navy Game" (Season 1)
Last appeared in:
Only one credited appearance; a few others uncredited in Seasons 1 and 2
Appeared on/or in:
M*A*S*H
Played by:
Sheila Lauritsen
Lieutenant Hardy was a nurse who made an appearance in the Season 1 episode of the M*A*S*H TV series titled "The Army-Navy Game" . The part of Lieutenant Hardy was the first credited role played by Sheila Lauritsen who is also one of the five nurses in the opening sequence shown running towards the chopper pad. After this episode, she would make one appearance credited simply as "Nurse" and a few other uncredited appearances before her next credit as Lieutenant Watson in the Season 2 episode "Hot Lips and Empty Arms".
About Nurse Hardy
Edit
Lieutenant Hardy first appears just after the opening credits in "The Army-Navy Game". Radar is going around the camp signing up bets for the game. Hardy makes a bet and borrows Radar's back to write on his chart, much to his delight.
Later in the episode, the camp comes under bombardment and an unexploded bomb lands in the grounds. The doctors call HQ to find out how to deal with the bomb. Meanwhile Radar approaches Hardy and says he has a confession to make. For months he has "worshipped her from below". He says that with all the bombs going off and the big one in the camp which hasn't gone off yet, he thinks maybe it is a good time for Hardy and him to check out the supply tent together. "I wish I could wink," he says. "You don't need to," she replies and leads him off.
In "Showtime", the last episode of Season 1, Lauritsen's part is credited simply as "nurse". Here she is seen with Hawkeye saying goodbye to the dentist Captain Kaplan who is leaving for stateside. She tries to kiss him good-bye but Kaplan pushes her off. he is not taking any risks which might come in the way of a safe journey home. "Please, Nurse," he says. "No offense. I'm a dentist. I know. The mouth is a playground for germs." Perhaps he should have accepted the kiss for good luck because he drives off and promptly crashes the jeep!
Sheila Lauritsen next appears uncredited four episodes later in the Season 2 episode "For the Good of the Outfit". She is standing with Hawkeye and Trapper and she salutes when General Clayton arrives.
The next appearance is 3 episodes later in "L.I.P.". Here she is seen dating and sharing a poncho with an unidentified person in the movie scene at the beginning.
After this, Sheila Lauritsen would make two more uncredited appearances, these will be described together with her next credited appearance as Lieutenant Watson.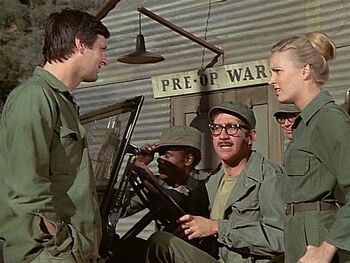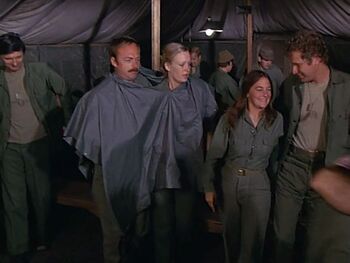 Ad blocker interference detected!
Wikia is a free-to-use site that makes money from advertising. We have a modified experience for viewers using ad blockers

Wikia is not accessible if you've made further modifications. Remove the custom ad blocker rule(s) and the page will load as expected.