Lieutenant Garvey

Lieutenant Garvey as played by Rick Waln in "Dreams" (Season 8)
M*A*S*H character
Vital information
Rank:
1st Lieutenant (O-2)
Job/Role in Unit:
Transportation officer in charge of sending ambulances
Home:
Not Mentioned
Hair Color:
Sandy Brown
Eye Color:
Blue
Height:
unable to estimate
Weight:
unable to estimate
Family/Personal Information
Born:
????
Birthplace:
????
Nationality/Race:
American/Caucasian
Spouse(s):
????
Relatives/Children:
Not mentioned
Appearances
First appeared in:
""Dreams" (Season 8)
Last appeared in:
N.A. Single appearance
Appeared on/or in:
M*A*S*H
Played by:
Rick Waln
'
Lieutenant Garvey'
was a US Army transportation officer who made a single appearance in the Season 8 episode of
M*A*S*H
titled
"Dreams"
. The part of Garvey was played by actor
Rick Waln
.
About Garvey
Edit
The MASH is getting overcrowded with patients but they are unable to evacuate any of them to other hospitals. Lieutenant Garvey, who is in charge of dispatching the ambulances, refuses to send them forward into the combat zone because there is too much shooting going on. The Lieutenant, whom Klinger describes as a very new lieutenant, says that he had personally signed out for the vehicles and if they get shot up or damaged, he would have to pay for them. He refuses to give in even when Potter yells at him, telling him that the army expects its vehicles to get shot up. He tells Potter to call again when the shooting quietens down.
But, help is at hand. General Coogan, one of the patients at the MASH (who would very much appreciate a bit more space and privacy), decides to help  "persuade" Garvey. He asks if the lieutenant has a good reason for withholding the ambulances. Garvey assures Coogan that he has. "So, why don't you come up here right now in the flesh - and tell me what it is....in the flesh or what's left of it." The thought of coming up into the combat zone himself suitably intimidates Garvey, and the ambulances are dispatched right away.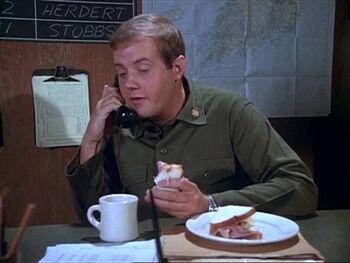 Ad blocker interference detected!
Wikia is a free-to-use site that makes money from advertising. We have a modified experience for viewers using ad blockers

Wikia is not accessible if you've made further modifications. Remove the custom ad blocker rule(s) and the page will load as expected.