Lieutenant Forrester

Lieutenant Forrester, looking a bit stunned as Father Mulcahy has just given him a great punch on the jaw.
M*A*S*H character
Vital information
Rank:
Lieutenant (O-2), U.S. Army
Job/Role in Unit:
wounded soldier who arrives at the 4077th
Hair Color:
Dark Brown
Eye Color:
Brown
Height:
unable to estimate
Weight:
unable to estimate
Family/Personal Information
Born:
????
Birthplace:
????
Nationality/Race:
American/Caucasian
Spouse(s):
Not mentioned
Relatives/Children:
????
Appearances
First appeared in:
"Dear Sis" in Season 7
Last appeared in:
N/A, one-time appearance
Appeared on/or in:
M*A*S*H
Played by:
Lawrason Driscoll
Lieutenant Forrester
is a wounded U.S. Army officer who makes a one-time appearance in the Season 7 episode
"Dear Sis"
. The part of Lieutenant Forrester was played by
Lawrason Driscoll
.
About Lieutenant Forrester
Edit
Lieutenant Forrester is a disagreable officer who arrives, wounded, at the MASH. During triage he keeps complaining that he has just been left on the ground and nobody has come to see him. When Margaret tries to look at his injuries, he tells her he doesn't want a nurse, he wants a doctor. When Margaret tells him there isn't one available and tries to check on his wounds, he pushes her aside and knocks her to the ground. Margaret calls to Father Mulcahy for help. She asks him to hold him still otherwise she can't give him an injection. Mulcahy tries to calm Forrester down but he tells him he doesn't want a priest either and punches Mulcahy, knocking him onto the ground. Mulcahy reacts and returns the compliment with a punch which sends him rolling off the stretcher.
Later in post-op, Mulcahy attempts to apologise to Forrester but the Lieutenant rejects the offer. Instead, he jibes Mulcahy, asking, "Where were you ordained? Stillman's gym?"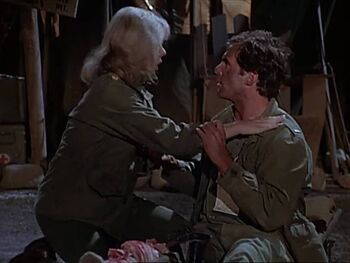 Ad blocker interference detected!
Wikia is a free-to-use site that makes money from advertising. We have a modified experience for viewers using ad blockers

Wikia is not accessible if you've made further modifications. Remove the custom ad blocker rule(s) and the page will load as expected.