Derick Shimatsu

Derick Shimatsu in ABC-TV series "Twin Peaks" in 1990.

Series appearance

Character played

Chinese soldier

Episode

"Radar's Report" in Season 2
Derick Shimatsu appeared as a Chinese prisoner which the surgeons operate on in the Season 2 M*A*S*H episode titled "Radar's Report". Derick is perhaps best known for his roles in the films Varan the Unbelievable (1962), and Hong Kong (1960). He also appeared twice in the ABC-TV series Twin Peaks, first as an Asian man and then as the assistant of Mr. Tojamura (who is really a disguise for Catherine Martell, played by Piper Laurie).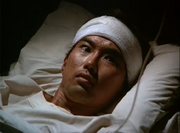 External link
Edit
Ad blocker interference detected!
Wikia is a free-to-use site that makes money from advertising. We have a modified experience for viewers using ad blockers

Wikia is not accessible if you've made further modifications. Remove the custom ad blocker rule(s) and the page will load as expected.