Corporal Robelo

Corporal Robelo without his moustache in "Post Op" (Season 5).
M*A*S*H character
Vital information
Rank:
Corporal (E-4) U.S. Army
Job/Role in Unit:
Patient at the 4077th MASH
Home:
Puerto Rico
Hair Color:
Black
Eye Color:
Dark Brown
Height:
unable to estimate
Weight:
unable to estimate
Family/Personal Information
Born:
not mentioned
Birthplace:
probably Puerto Rico
Nationality/Race:
Puerto Rican
Spouse(s):
not mentioned
Relatives/Children:
not mentioned
Appearances
First appeared in:
"Post Op" (Season 5)
Last appeared in:
N/A, guest appearance
Appeared on/or in:
M*A*S*H (TV series)
Played by:
Richard Beauchamp, in guest appearance
Corporal Robelo
was a U.S. army corporal from Puerto Rico who made a single appearance in the Season 5 episode of the CBS-TV series
M*A*S*H
titled
"Post Op"
. The part of Robelo was played by
Richard Beauchamp
.
About Robelo
Edit
While recovering in post-op, Robelo asks Klinger to lend him a mirror and is then horrified that his moustache has been shaved off in order to stitch up his face. He has had a mustache since he was 12. In his opinion, "All the real men in Puerto Rico have a mustache." He tells Klinger, "No mustache, I might as well be wearing a dress," a view that doesn't amuse Klinger at all. Klinger reassures him that he looks all right with his bushy eyebrows but he tells Klinger to go away.
Later, Klinger visits him again and presents a mustache which he says he made with his own hair. "Hundred percent Lebanese. It'll probably keep growing." Robelo tries it on and is delighted. It is even thicker than his real one. He tells Klinger he is "okay".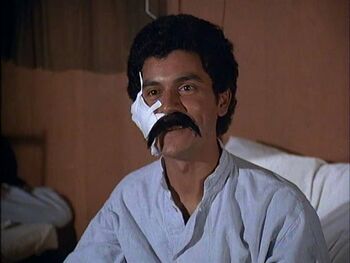 Ad blocker interference detected!
Wikia is a free-to-use site that makes money from advertising. We have a modified experience for viewers using ad blockers

Wikia is not accessible if you've made further modifications. Remove the custom ad blocker rule(s) and the page will load as expected.