As chaplain of the 4077th, Father Mulcahy got his own tent which gave him a private space to tend to the spiritual needs of the camp personnel. Like the other accommodation tents in the camp, it is a "Tent GP small", one of several under a camouflage net in a line between the large mess tent and the motor pool/stable area. According to a hand drawn map in the souvenir booklet "M*A*S*H Bind Up the Wounds" published by the Smithsonian Institution for the exhibition of the same name, the Chaplain's tent is the first one after the motor pool, directly opposite the Officers' Club.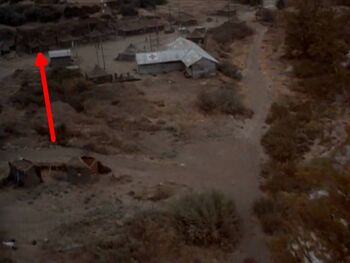 The inside of the tent is simply furnished, with a bed, a stove for heat, a desk (often covered with a red table cloth), and chairs--although the arrangement of the furniture changes between seasons. Outside, Mulcahy maintains a simple garden.
The Chaplain's tent features significantly in a number of episodes as a place where confessionals are conducted and advice is given to various camp personnel and there are many good views of the inside. In "Dead Dad...Again" (Season 1), Captain Casey confesses that he is not really a doctor. Similarly, in "Tea and Empathy" (Season 6), Corporal Benny Bryant confesses that he has stolen cases of penicillin and hidden it under a bell in an abandoned school house. In "Morale Victory" (Season 8) Winchester is crushed and seeks Mulcahy's advice when he is unable to reach out to a concert pianist soldier who has injured his hand. In "Letters" (Season 9), it is Hawkeye's turn to seek advice in the chaplain's tent when he does not know how to reply to a a schoolboy's letter accusing him of fixing up wounded soldiers only to have them sent out to be shot again. This episodes has particularly fine wide angle views of the inside of the tent.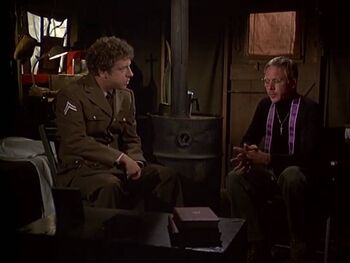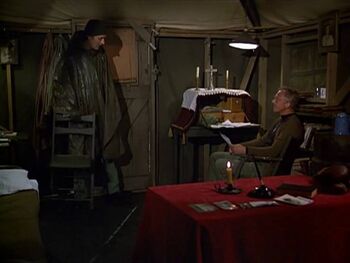 Ad blocker interference detected!
Wikia is a free-to-use site that makes money from advertising. We have a modified experience for viewers using ad blockers

Wikia is not accessible if you've made further modifications. Remove the custom ad blocker rule(s) and the page will load as expected.