Bonnie Jones

Bonnie Jones played the recurring role of Nurse Barbara Bannerman in Seasons 1-5 of the M*A*S*H TV series, appearing in five episodes.
Personal Information
Gender:
Female
Birthname
Bonnie Jones
Alias(es)/
Also known as:
Bonnie Jones Reynolds
Born:
February 7, 1938
Birthplace
Clinton, New York, U.S.
Occupation/
Career:
Actress, Author, Director
Years active:
(as actress) 1962-1974
Website/URL:
http://www.bonniejonesreynolds.com
Character information
Appeared on/in:
M*A*S*H
Episodes appeared in:
5 in Seasons 1-4
Character played:
Lieutenant Barbara Bannerman

Bonnie Jones, now Bonnie Jones Reynolds (born February 07, 1938) played the recurring role of Lieutenant Barbara Bannerman, a M*A*S*H nurse and love interest of Hawkeye in Seasons 1-5 of the CBS-TV series M*A*S*H, appearing in a total of five episodes.
About Bonnie
Edit
Bonnie was born on her family estate Spring Farm outside Clinton, New York. After high school, she trained as a dancer and later as a model and actress. She worked for 10 years in various modeling and stage acting roles in New York. Her screen acting role began with an appearance on the New York based "Naked City". She later moved to Hollywood where she acted on shows such as "Perry Mason", "The Man from Uncle" and "Hogan's Heroes".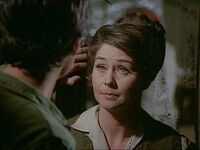 In 1967, Bonnie married Gene Reynolds, producer of M*A*S*H. Her several appearances as Lieutenant Barbara Bannerman on M*A*S*H marked the end of her screen career as she began to devote herself to writing, authoring several successful books such as "The Truth About Unicorns" (1972) and "The Confetti Man" (1975).
After divorcing Gene in 1976, Bonnie traveled for a while before returning to her family home at Spring Farm where, in 1991, she co-founded an animal sanctuary Spring Farm CARES. She still serves as President and Director of Spring Farm CARES while continuing with her career as an author.
Bonnie made at least four appearances on M*A*S*H as Lieutenant Barbara Bannerman, all in Season 1 from 1972 to 1973. A fifth appearance, in "Dear Mildred", mentioned in IMDB, is unconfirmed.
Appearances on M*A*S*H
Edit
External Links
Edit